---
"See deep enough, and you see musically;
The heart of Nature being everywhere music, If you can only reach it."
—Thomas Carlyle
---
---
 Featured Video
CONTINUUM Installation – Sculpture, Poetry and Soundscapes (Portal & Neurocantos)
A collaboration with sculptor Rebecca Kamen and poet Steven J. Fowler. Soundscape by Susan Alexjander.
Continuum Installation Walk-through from Rebecca Kamen Website on Vimeo.
NEUROCANTOS depicts inner and outer spaces of the brain, using language and poetry by Steven J. Fowler layered with the sounds of space.
PORTAL SOUNDSCAPE is the story in sound of what happens when two collapsed neutron stars (black holes) orbit around each other and finally merge, transforming on the other side of the singularity point. Sounds are from NASA, Earth, and the microtonal worlds of water and elements.
 What's New! Current & Upcoming Events
NEUROCANTOS – Performance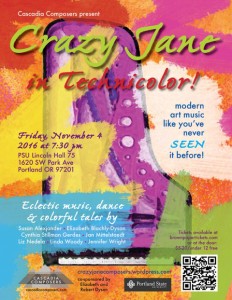 FRI – Nov. 4, 2016 (Portland, OR) – PSU Lincoln Hall -Performance of "Neurocantos" ~ featuring a digital composition about the busy brain and improvisational dancer Melissa St. Claire, as part of the "Crazy Jane in Technicolor" performance. (Visit the Crazy Jane Composer Website | Buy tickets via Brownpaper tickets) .
ABOUT "CRAZY JANE IN TECHNICOLOR" ~ This is modern art music like you've never seen it before! Seven Crazy Janes – women composers of Cascadia – present their vivid and eclectic musical visions in vibrant, glowing COLOR. Fresh works including modern dance, piano duets and songs, sultry tangoistas, an electrified harpsichord, stories from Rudyard Kipling, electro-acoustic sounds of the brains workings and a dazzling live visual display of musical waveforms create a riveting program! A collection of some of Portland's best performers bring together striking music, dance, improvisational movement and narration in one unforgettably colorful evening.
---
ZUVUYA – ongoing project devoted to the health of our ocean
ZUVUYA is an ongoing project devoted to the health of our oceans. (Visit the Zuvuya Project Website)
It features the amazing living sculpture, OCEAN, an immersive, interactive installation by Thais Mazur, video (on hanging screens) of life-size whales and dolphins by underwater filmmaker Lisa Denning, and sound design Coming On The Backs of Whales, by Susan Alexjander.
---
Be sure to check out my Recent Work page too!